Testimonials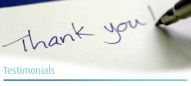 "Never having needed an attorney before, I am sooo happy that I chose Maura Richards. From my first meeting with her she made me feel very comfortable and I learned that she would fight and negotiate until the end for all that I deserved. She worked tirelessly and was always there when I needed her, even at the drop of a hat to help resolve any matter that came up. I recommend her to everyone I know, for any kind of legal advice." -- Client, C.I.
I am a single mother with five children. Five years ago my children were taken from me. I found Maura Richards over the Internet. I had spoken with dozens of other attorneys but had not found one I felt comfortable with. After I had my first meeting I knew that she was going to be my angel. Three years of working with her proved just as I thought. She was hard working, caring, compassionate and really knew her job. During our time together I believe I formed a life long friendship. She saved my life in ways most people could never understand. Always giving 1000%. My wins and losses became her own. She wasn't just a lawyer. She was a friend. Someone who was fighting not only for me but for my children as well and believing in me at the same time. Pushing me when I thought I had nothing more to give, I've since used her again regarding somewhat of the same issue. In my eyes, there is no other lawyer I would trust as I do Maura. She saved our lives. I am eternally indebted to her and grateful to have found her. If you would like to ask me anything regarding my experiences with her please get my number from her office. I owe my life to her. Just when you feel as if your life is over Maura comes and lifts you up. She was and is my savior! -- Client, MB
I have been a client since 2007. My situation has been very difficult and draining, yet, I have received enormous support and guidance from Maura. With regard to response time, professionalism and results, I would recommend her services (and have) to family and friends. I have never had to follow up on a question or request because she is always on top of my case. Maura has provided me with confidence and security in my legal decisions and actions. -- Client, N.C.
Ms. Richards prepared my Last Will and Testament, Durable Power of Attorney, and Health Care Proxy. She made it easy and I received exactly what I asked for. She asked me for my requirements during my initial interview. Followed up the next week with a few detailed questions, and had me into her office the following week to sign the documents and have them witnessed. The fee was reasonable and I couldn't be more delighted with the outcome. -- Client, P.S.
As an attorney and colleague Maura is in every sense an advocate. Her integrity, work ethic, knowledge and instincts with regard to her craft are second to none. -- KMD, Esq.
Please contact our offices today to schedule a consultation. During this time, an experienced attorney can assess your case and explain your options in order to help navigate a successful outcome.